Adham: Covid-19 patients now younger, sicker, harder to treat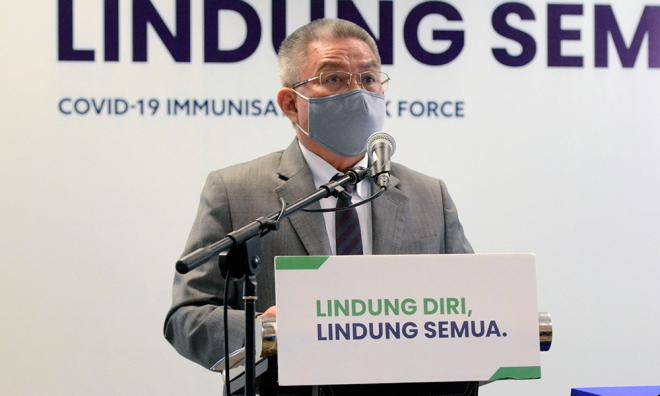 Published 3 May 2021, 9:31 pm
As the Covid-19 pandemic in Malaysia continues to develop, the Health Ministry is finding that more of its patients are becoming severely ill particularly among age groups that were previously less susceptible to the disease.
Moreover, Health Minister Dr Adham Baba (above) said such patients are also less responsive to treatments compared to earlier in the pandemic.
At a press conference today, he said only 6.7 percent of Covid-19 patients were in Category 4 or 5 in January 2021.
Category 4 patients are those who require supplemental oxygen to survive due to low oxygen levels in their blood. Category 5 patients are critically ill with multiple organs affected by the disease.
Adham said the proportion of such patients increased to 26.2 percent in February, dipped to 17.2 percent in March, then increased again to 35.2 percent in April.
"Clinical observations also found a change in terms of patient profile where patients below 60 years old used to be less likely to have severe symptoms, but today show symptoms that are more serious and are less responsive to treatments compared to early in the pandemic," he said.
He said there may be several possibilities that led to this phenomenon, such as patients being late in seeking treatment or the proliferation of new Covid-19 variants around the world.
He said these variants are believed to more aggressive and cause illnesses and complications that are more serious than before.
"However, we are still studying this matter," he said.
He said the Health Ministry and other agencies are working to ensure the country achieves herd immunity against Covid-19 earlier in response to this problem.
He also urged those with symptoms or who had recent close contact with a Covid-19 patient to seek treatment immediately.
"This is so we can diagnose and provide treatment early, and issue home surveillance orders for self-quarantine to break Covid-19's chain of transmission.
"However, success in tackling this wave can only be achieved if we follow standard operating procedures that we have set, and follow new norms that we have recommended," he said.